I almost let the day get away from me without blogging again but decided to put the world on pause and go ahead and blog. I promise I'll unpause when this post is written and published.
Today was a fun and productive day. I like to have days like this, and I'd like to order more of them for the future.
First, I had a very productive morning at home and running errands (one of which was to purchase this lovely wig for my husband because he secretly desires to be Napoleon Dynomite), and then went to lunch with my friend
Kim
and had the most fantastic pulled pork sandwich I've ever tasted. I confess, I will steal the idea of how to prepare these sandwiches the next time I make them because they were much yummier than my own.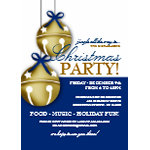 I also started a festive new line of jingle bell Christmas party invitations (shown here in the blue/gold color theme) and will be expanding this theme to include custom postage, photo cards and more over the next few days. I sat here for a couple of hours creating those jingle bells and finally got them to look exactly the way I wanted them. I love it when design elements all come together like that. They'll be coming in both gold and silver and on several color themed cards, etc.
I also wanted to say a big thank you to zazzle for selecting me to interview and be
featured on the zazzle blog.
They posted this last night and it was a real honor to be selected, for sure.
I know today was supposed to be the end of the world and everything, but it was pizza/movie night, plus I had a lunch date with Kim and I haven't finished this fun new line of jingle bell themed paper goods so I am really glad the world didn't actually end. Besides, Kev needed his blonde afro first. So I guess it's time to unpause the world and let everyone get back to their business. Besides, I have a movie to watch as I snuggle up with Kev Dynomite on the couch. Try not to be too jealous.