I wanted to take a moment this morning to seriously brag about a company that has not only met my expectations but exceeded them above and beyond what I ever dreamed. That company is
zazzle.com
As regular readers here already know, they are one of my fulfillment partners for Reflections designs. A lot of times potential customers will ask me specific details about certain products and unless I've ordered them myself or have seen them up close and personal, actually handled them, those questions are sometimes questions I can't really answer. So, I make it a point to order my own products as much as possible (usually as gifts for others) so I can see them from the customer's viewpoint. Following are some product reviews that you might find helpful. Some of the featured products have current specials going on so make sure to check out the coupon code deals as well.
Here are some products from zazzle.com that I've either purchased myself or have had the chance to see for myself:
The Jumbo Tote
Product description:
Made from 100% cotton, it has a squared off bottom and extra long natural web handles. 20"w x14.5"h x4.5"d. Honestly, I don't know why they didn't just say it's made from 100% awesome. Not only is the product itself fantastic (incredibly sturdy, and big enough to hold LOTS of groceries, or overnight gear for a sleepover, or just about anything else you'd want a jumbo tote bag for) but the print quality of the design really impressed me. This chick is a very bright yellow and I was a little concerned that she might lose some of that brightness in the printing but she definitely looks exactly the same on the screen as she does on the bag. I take this bag with me quite often when I do my grocery shopping and have had several comments on it. LOVE the jumbo tote, and it gets 5 stars from me.
_________
Business/Contact Cards
Product description: 3.5" x 2" – Classic Business Card - Choose from ten types of premium card stock - Full-bleed, full-color printing on both sides.
I specifically designed these to resemble my kids, but there are lots and lots of Twiggy Tots kids available, and of course I do custom work as well! Enough about that, these cards are just great. I ordered on the basic cardstock and the feel, the weight of the paper is just perfect and the printing is top notch. The colors are bright and vivid and really stand out well against the white background. I will definitely be ordering these again when I run out.
(Current special: Use coupon code
15OFFBIZCARD
before January 1, 2011 at 11:59pm PT and save 15% off your next business card order. Shop my store or shop the
zazzle marketplace
for a huge selection of custom business cards!)
_________
Custom Invitations
These are probably one of the most enjoyable products for me to design for that zazzle carries. They're little canvases that I can play around with until they're just right!
Product description: 5" x 7" (portrait) or 7" x 5" (landscape) - Choose from six paper types and nine colors - High quality, full-color, full-bleed printing on both sides - Each invitation comes with a white envelope. I've ordered two different kinds of these now (both on the basic cardstock) and was incredibly impressed with the paper weight and print quality as well. I've sold a lot of these invitations over the last year and often hear back from customers just how satisfied they are with them (and have had numerous repeat purchases) so I just had to see for myself. I was very pleased with the two versions I've ordered myself, and plan to order more for upcoming birthdays and special events as well.
(Current special: order your custom invitations before January 1, 2011 at 11:59pm PT and use the coupon code
12INVITATION
and get 12% off your order. Shop my store or shop the
zazzle marketplace
for an incredibly enormous selection of custom invitations for just about any kind of event you can think of)
_________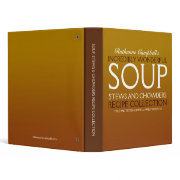 Custom Avery Binders
When I received this in the mail and opened it up I just stood there going "wow" over and over. I couldn't believe how incredible the print quality was and the quality of the product just speaks for itself since it's an Avery Custom Signature binder.
Product description: 1.4" spine - Full-color, photo-quality printing. - Holds 175 pages with EZ-Turn™ Rings or 275 pages with 1 Touch™ EZD™ Rings - Designed for 8.5" x 11" sized paper - Two additional binder sizes available. While the product description says there are more sizes available, I only design for the 1" binder. There are TONS of other sizes in zazzle's marketplace though. I sell quite a few of these binders and with certain styles I've had repeat customers so often I've lost track. I knew they had to be pretty incredible products when the same folks kept coming back for more so when I decided I needed a better organized method for my recipes I designed the binder shown here and ordered one for myself. The only problem is, now I need more of them for my holiday recipes, summer recipes and photo album binders!
(Current special: use coupon code
AVERYCUSTOM1
before 12/31 and get $9.00 off any custom binder - either one of mine or in the
zazzle marketplace
!)
_________
Custom, Personalized Stationery
A friend came to me not too long ago with a custom request for stationery so I designed this simple, classic design for her. When she received it she was kind enough to send me a little note in the mail so I could see the product first hand.
Product description: 5.5" x 8.5" (portrait) or 8.5" x 5.5" (landscape) - Choose from five different paper types - High quality, full-color, full-bleed printing. The paper weight is perfect and the printing was clear, bold and true black, as intended. This is the most "basic" style of stationery I have in store, but there are lots of others in a variety of styles and colors.
_________
Custom Greeting Cards
The cards shown here are the ones I recently ordered that arrived yesterday. This was my first greeting card purchase from my own shop and I have to tell you I was so incredibly impressed with the quality of these cards that I almost didn't want to part with them! A fellow designer at zazzle commented recently that these are the most high quality cards she's ever seen, very similar to those you'd find in an art gallery. I couldn't agree more. The paper weight, the glossy finish, the rich, vivid color is just outstanding. I can only chalk it up to magic zazzle elves but somehow they even made the cards look better in person than they did on my screen when I designed them! I absolutely LOVE these cards and plan to purchase many many more very soon. Shop the greeting card section of my shop or
click here
to see all the incredible styles in the zazzle marketplace. I was delighted to see another of my designs being used on that page (the Merry Christmas premium photo card) and you can see my
full line of photo cards here
).
I've also recently ordered some mugs, and another designer told me "if you're blown away by the cards, wait until you see their mugs". I can't wait!! Here's another added bonus -
today only
- save 40% on both
mugs
AND
mousepads
when you use the coupon code
JINGLESALE85 at checkout.
All in all, I give not only the products but the company itself a fantastic 5 star rating. I don't just say that so you'll shop at my store (but if you'd like to, I'd certainly thank you!) but when I find a product and a service that exceeds my expectations, they deserve a great big pat on the back. Not only am I a designer on zazzle, I'm a 100% satisfied customer!