Quite a few folks have asked in the last little while where I've been lately. Loosely translated that means "why are you not blogging?" and "why are you not in chat?"
There are 3 answers to that question.
1. I'm still in the middle of the Great Rolfetastic Cleaning Frenzy of 2010. I'm essentially gutting my entire house and either giving it away, throwing it away or putting it away. After 10 years of having my house be a homeschool warehouse, it's taking a lot of work to whip it back into shape. It's only been 2 months since I started but it's starting to finally look like a home again. I like that.
2. My wireless connection has been experiencing major FAIL as they undergo "ongoing maintenance to our 3G network". In the last month I've had roughly 5-7 days of decent service. The rest of the time I'm dropped constantly and/or can't logon for a while. It's been 100 times worse than dial up ever was. I'm hoping they finally get it together and my service goes back to normal. Oh yes, I have been spoiled completely rotten with high speed after 8 years of the dreaded DaiLup Disorder.
3. The last answer to the question of where have I been, is right here in the very chair I'm sitting in just now. Sitting here having the most outrageous creative streak I've had in years, and pumping out tons of new designs for my stores and new products. When I'm not working on a household cleaning project and when I can get connected and stay connected I'm designing and uploading for such things as the wonderful new custom
Christmas stockings at Reflections cafepress
, and the fantastic new Christmas ornaments at Reflections zazzle.
Zazzle is currently undergoing a huge maintenance issue so you can't see the nearly 100 new ornaments (and tons more coming) that are new in my shop, so here's a sneak peek (these are live in the store, and available for purchase now) at what's in store: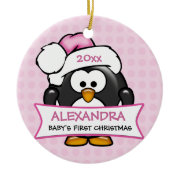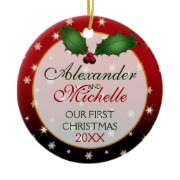 Christmas themed ornaments, baby's first Christmas personalized ornaments, our first Christmas newlywed ornaments, and lots more! You'll be able to see them all in just a few days. I'm having so much fun creating these that I even dreamed about them last night. I know, it's crazy, but it's true.
So, that's where I've been and what I've been up to :o)