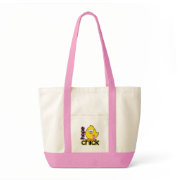 I learned over the weekend that one of my chicks had been selected for zazzle's Pink Ribbon Breast Cancer Awareness Shop. You can find
Hope Chick
on t-shirts, bags, buttons and more at the Pink Ribbon shop. The great thing about this shop is, all the designs found there are donated by fellow zazzle designers, customers get fantastic products and 20% of all purchases there go toward support of breast cancer awareness causes. It really is a win/win all the way around.
In other design news, I also learned over the weekend that I have been selected to be a contestant in Project Zazzle Season 2! Okay, you have no idea what that is. Basically it's a design challenge contest where you're given design parameters, you create, you submit, there's voting, winners, shiny prizes and more. Okay I'm not to sure about shiny prizes but it's going to be a lot of fun. Project Zazzle was created by a
fellow zazzle designer
who also happens to be the same person who set up the challenge to zazzle designers to join the Daily Mile, get off their big, fat... computer chairs, and get more active and fit. All the contestant info isn't in yet, so the site hasn't been updated but when it is I'll be sure and let you know so you can vote for me tons and tons of times so I'll win shiny prizes, and stuff. (Yes, I'm kidding about the prizes, but I'm SO not kidding about the voting for me, lol).
And lastly in other,
other
design news, I have a brand new section at Reflections zazzle:
Desktop Gifts
- Matching mousepads and mugs for just about anyone on your gift list, or even for yourself! Many of the sets here are ready for you to personalize for a perfectly wonderful, totally unique gift.
There are currently 17 pairs of matching mugs & mousepads for men, women, teens & kids, with loads more on the way. My internet connection has been desperately unreliable for the past week so uploading the new designs is tricky going right now. I only hope this is resolved very soon.