(UPDATE: if you have a soup recipe at your blog please let me know and I'll add it to the end of the post!)
... and soup!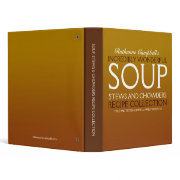 Kev and I decided a few weeks ago that once the fall weather is in full gear, we're going to do a sort of Soup Bonanza around here. He and I and all of the kids really love soup, so we're on a mission to begin trying all sorts of new and wonderful soups, stews and chowders. I'm usually the reluctant one when it comes to trying new foods, so this will be quite the adventure for me. I do have my favorites; Mom's Potato Soup, my turkey/bacon soup (the best use of leftover holiday turkey, ever), Campbell's vegetable beef, and bean with bacon. I really like a hearty chicken noodle as well, because some days it just works out that way that nothing in the world is as good as a hot bowl of chicken noodle soup.
Is there anything as wonderful as coming inside on a cool and breezy autumn day to the smell of a big pot of fresh soup simmering on the stove? I suppose there are a few things as wonderful, but not many. One of my most treasured memories of childhood was coming inside from playing in the snow and mom serving up a big hot bowl of potato soup (or a mug of tomato soup with a pat of butter and a dash of salt and pepper) with grilled cheese sandwiches. Ahhh... nothing warms the bones and takes the chill out of snow-fingers, like a good old fashioned soup dinner. No wonder it's called Comfort Food!
Right now there are some fantastic Campbell's chunky soups on sale at the local grocery store for less than half of their regular price (yay, bargains on wonderful things) so I'm going to stock the panty with a load of those. I'm much more interested though, in making my own soups and stews. I love my crockpot and I can't think of a better use for it this fall than to be the starting point of an incredible pot of homemade soup.
With that in mind, I'm hoping my readers might like to answer a few questions:
1. What is your favorite soup?
2. What is your favorite side dish to go with your soup?
3. Do you make your own, buy canned, or a combo of the two?
4. Do you have a favorite soup/stew/chowder recipe you'd like to share?
5. Do you have a favorite soup cookbook that you'd like to share?
Okay so that was slightly more than a few. Soup is serious business though, and requires much careful planning. I'm looking forward to hearing from you on this!
UPDATED: It occured to me as I was printing out Kim's delicious sounding Lentil Soup recipe that I needed a new binder just for soups, stews and chowders. So, I made one this morning. You can
get one here
, if you're a big soup nut like me! I plan to have mine stuffed so full that I'll need two of them!
Kim's Lentil Soup