(Crosspost from Reflections Store blog)
Wouldn't it be great to have a fantastic recipe so handy that all you had to do is take out your cutting board and there it is? Well, we've got you covered!
Mom's Kitchen is my newest shop that features wonderfully unique gifts. Recipe Cutting Boards, with some of the most delicious recipes permanently printed on the underside of the glass top. These make THE perfect wedding gift, housewarming gift or Christmas gift for just about anyone that loves to spend time creating kitchen masterpieces.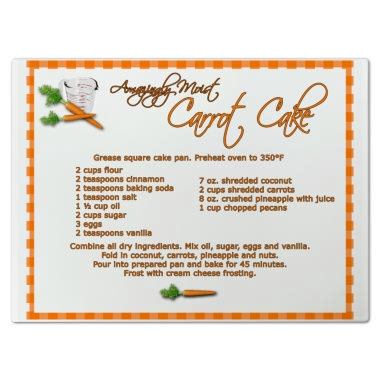 Spice up the kitchen with our ultra-premium large glass cutting board. Can also be used as a hot plate, serving tray, cheese board, bread board, or place mat. The photo-quality printing is permanently embedded into the back of the tempered glass. Non-skid feet protect the counter and keep the cutting board firmly in place. Makes an excellent gift that will be cherished for years to come.
• 12" x 15" overall size, 3/16" thick • Dishwasher safe • Scratch resistant textured surface • Odor and stain proof • 100% satisfaction guarantee
Also available in a smaller size (currently out of stock - back in stock soon!) and with these great recipes:
• Applesauce Cake • Blueberry Buckle • Blueberry Muffins • Chocolate Chip Cookies • Keylime Shortbreads • Raspberry Oat Bars (several more coming VERY soon)


Have a fantastically wonderful day!
Carla - Resident Mad Designer