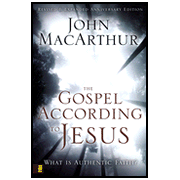 See this?
It came in the mail yesterday, and I can hardly wait to read it. Its been on my "to read" list for a long time, and its finally sitting right here on my desk.
The only problem is, it's sitting on my desk with 13 other books that I have either started and haven't finished, or are also on the more immediate "to read" list. The newest additions to the list are In Christ Alone by Sinclair Ferguson and The Mortification of Sin by John Owen. The latter one I've had for a while (I won it, I never win anything, ever!), but I have this issue with starting a book when I haven't finished another. Oh... so many books, so little time!!
I'm going to be a big rebel and start the MacArthur book even though I have so many others unfinished.