I think I was about 11 years old when I really fell in love with reading. Prior to that, I loved to scour encyclopedias on rainy days, just because they were fascinatingly full of so much information (and pictures!). I had a school library card and loved library day, and checked out all sorts of books from non-fiction history to do-it-yourself type books that teach you how to draw, to joke books, and of course suspense fiction - geared to my age group (Nancy Drew and Trixie Beldon rocked!) I even joined the school sponsored
Dynamite Book Club
and was so excited every time the book orders came in. I can't even remember all the books I bought that way, but for some reason the one that stands out to me was the
101 Pickle Jokes
book. I loved that book and memorized all the best jokes, at the time.
It was 1974.
I was a kid.
They were funny!

Of all the genre of books I've ever read, the one genre that I have
never
touched,
never
had any interest in, and
never
had any plans to read, was romance fiction. It just held no interest for me, whatsoever. In fact, I've often heard horrible stories of marriages being damaged by the unrealistic ideas this genre of writing plants into the minds of impressionable wives. That alone was enough to keep me away from romance novels, even if I didn't find it interesting to begin with.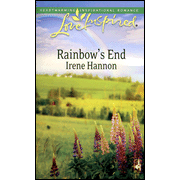 And then, someone sent me a book and said "you should read this, it's very good". You guessed it, it was a romance fiction... but with a twist. The main characters in the story of
Rainbow's End by Irene Hannon
, are both Christians (although based on the way it's written, I'm not sure what sort of Christian "tradition" they're supposed to be from), both struggling through very realistic, and very traumatic life events. I'm pretty sure there are lots of us that would read the descriptions of the struggles these characters deal with and just nod our heads in affirmation - because we've
been
there,
felt
that,
thought
that, and know it well - even if our own personal circumstances were or are different from those in the story.
Being brand new to this genre, I wasn't quite sure what to expect. I admit that I picked up the book with a lot of skepticism,
and
trying hard not to be judgemental about it before I ever read it. Much to my pleasant surprise, once I picked it up, it was very hard to put down. I started reading it last night and finished it this evening. At 240 pages, that was one of the easiest things I've ever read, and one of the most enjoyable fiction stories as well.
Aside from the encouraging story, one of the really surprising things I found at the end of the story, were 5 discussion questions that compelled the reader to think about or discuss. Each question was framed in a Christian worldview context, and that was quite nice to see. The questions will make the reader consider forgiveness, anger, bitterness, trust, how we deal with trauma, and a strong moral family or friendship support system.
It's funny, but if someone were to ask me a week ago what I thought of "Christian romance novels" I would have given them "the look" that basically says, 'you did
not
just ask me that'. I'm really glad I read this book though.
Thanks Mom, I
did
enjoy it very much. :-)