Well then, now that our
cat
-astrophic excitement is all over, I can get back to things that matter.
One of those things, is awesome gift giving. 'Tis the season and all that, so if you're looking for a few unique and terrific gift ideas, look no further. Well, you could look further but you'd be hard pressed to find better stuff:

Most Christian parents know full well how hard it is to find good entertainment choices that the whole family can watch. This movie almost fits the bill. The only downside is that it might be a little involved for younger children. Other than that, it's an excellent movie based on a genuine historical figure and it will leave you feeling incredibly inspired. Be prepared to wipe a few tears away in a couple of places, as well.
Regardless of the very few historical inaccuracies it's been reported to show (remember, it's Hollywood after all) this would make a great kick-off movie to get your younger kids (or you!) interested in church history, and history in general.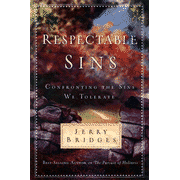 RESPECTABLE SINS
I've been hearing about this book for months, and in the last few days I've heard about it several times. Two people that I know who were at the Sola Scriptura conference this past weekend in Cambridge, Ontario bought it, and beginning in January our pastor is prepared to begin a series of sermons based on this book. From the publisher:
As Christians, we believe that all sins are considered equal in God's eyes. Yet while evangelicals continue to decry the Big Ones---such as abortion, adultery, and violence---we often overlook more deceptive sins. It seems we've created a sliding scale where gossip, jealousy, and selfishness comfortably exist within the church. In short, some sins have simply become acceptable.
Bridges, bestselling author of The Pursuit of Holiness, believes that just as culture has lost the concept of sin, the church faces the same danger. Jerry writes not from a sense of achievement, but from the trenches of his own personal battles. Drawing from scriptural truth, he sheds light on subtle behaviors that can derail our spiritual growth. Throughout, Jerry encourages a victory over personal sin through the gospel's transforming power, the perfect release for those who desire to thoughtfully examine their lives and discover a deeper walk with God.
A VERY MYLO CHRISTMAS
You can order now for post-Thanksgiving release (ships in time for Christmas!) or you can download singles or the whole cd, right online. This is the absolute perfect gift for the farmer in your life (doesn't everyone have one of those?), or just about anyone that enjoys a great sense of humor.
Be sure to listen to the clips offered as well (Mylo & Emma, as well as Clyde and Janet), we just know you're going to LOVE this cd!! I want one for Christmas (the kids love Mylo) so if you were wondering what to get me, there ya go.